Back in March 2020 the Covid 19 pandemic was just beginning in the UK and we were about to enter lockdown. That meant working from home, teaching at home and only 1 hour of outside exercise!
I'd been zwifting on and off through the winter previously outside under a gazebo to try and keep my fitness up.
My equipment was pretty meagre:
An old magnetic turbo trainer (an elite Voltaire to be precise)
My old commuting bike with a trainer tyre on it
A wahoo speed sensor
It was ok, but not very immersive due to the resistance not changing.
Once lockdown hit I decided to invest properly and brought a wahoo kickr snap (good budget entry, if you can call £450 budget :-\ )
My son had started to learn to ride his bike the summer before but we ran out of nice weather and he seemed to spend a lot of time looking at his feet or hands, which resulted in lots of crashes.
I reasoned that if I could get him riding statically, maybe when we were allowed out again he'd be ready. Luckily zwift have free accounts for children ( https://support.zwift.com/en_us/zwift-accounts-for-children-HyleeRkr7 ), so we set to work.
There are no turbo trainers for 20″ wheels. You can get adapters for some turbo trainers, but then I'd have to buy a new turbo and the adapter.
I tried using my old elite trainer. You can pickup similar trainers on gumtree and Facebook marketplace for around £20-£30 due to people like me upgrading to smart trainers!
This thing has a spring which pushes a flywheel against the tyre and a magnetic resistance which can be adjusted.
When I tried to attach my son's bike I found that the exposed area of the flywheel is quite narrow and wasn't in the right place which meant the tyre rubbed on the plastic bit.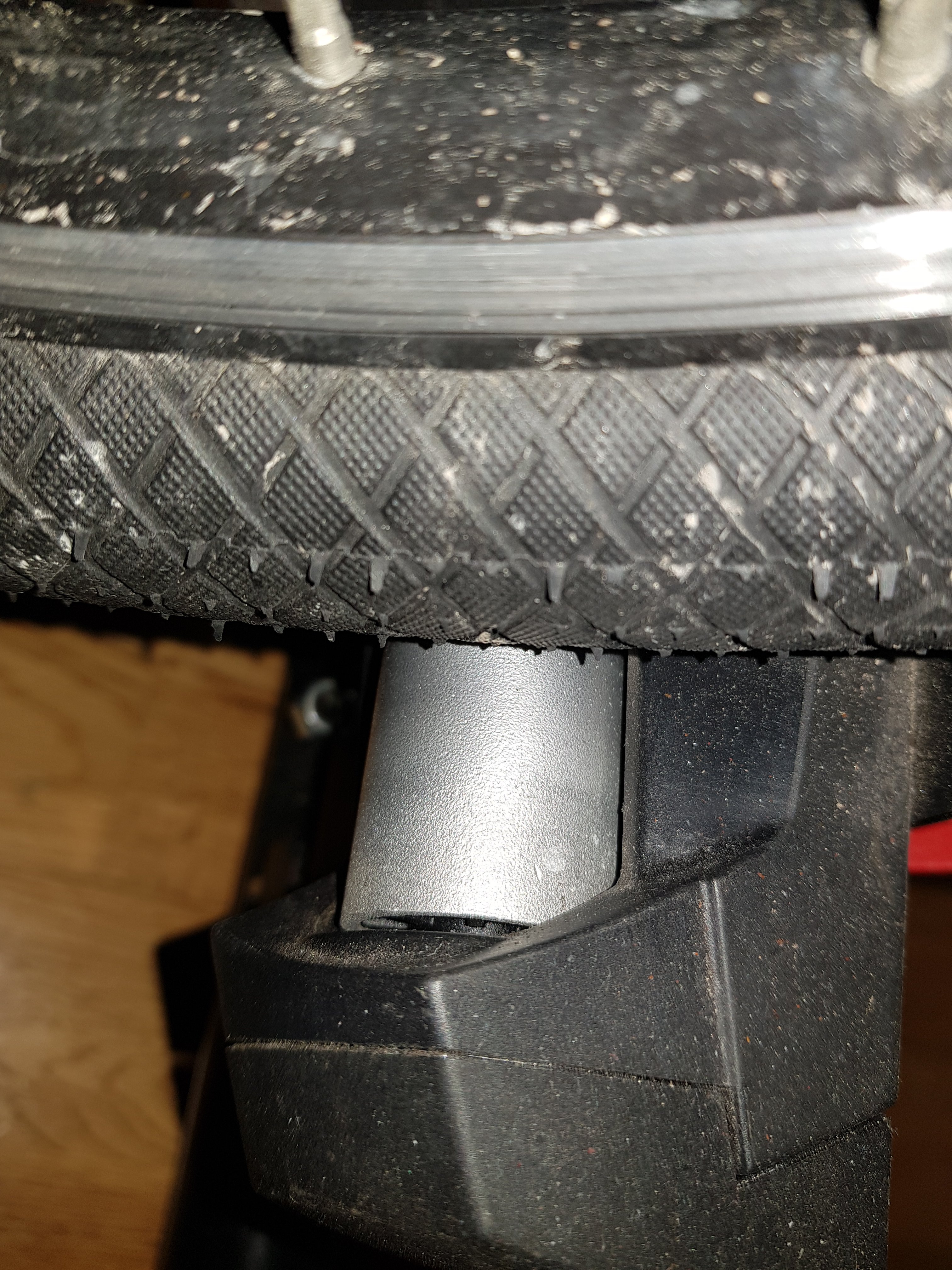 In order to change this I needed to move the whole flywheel bit higher. There is adjustment to be had, but for the distance required I had to drill some new holes as close to the end of the spring as I could.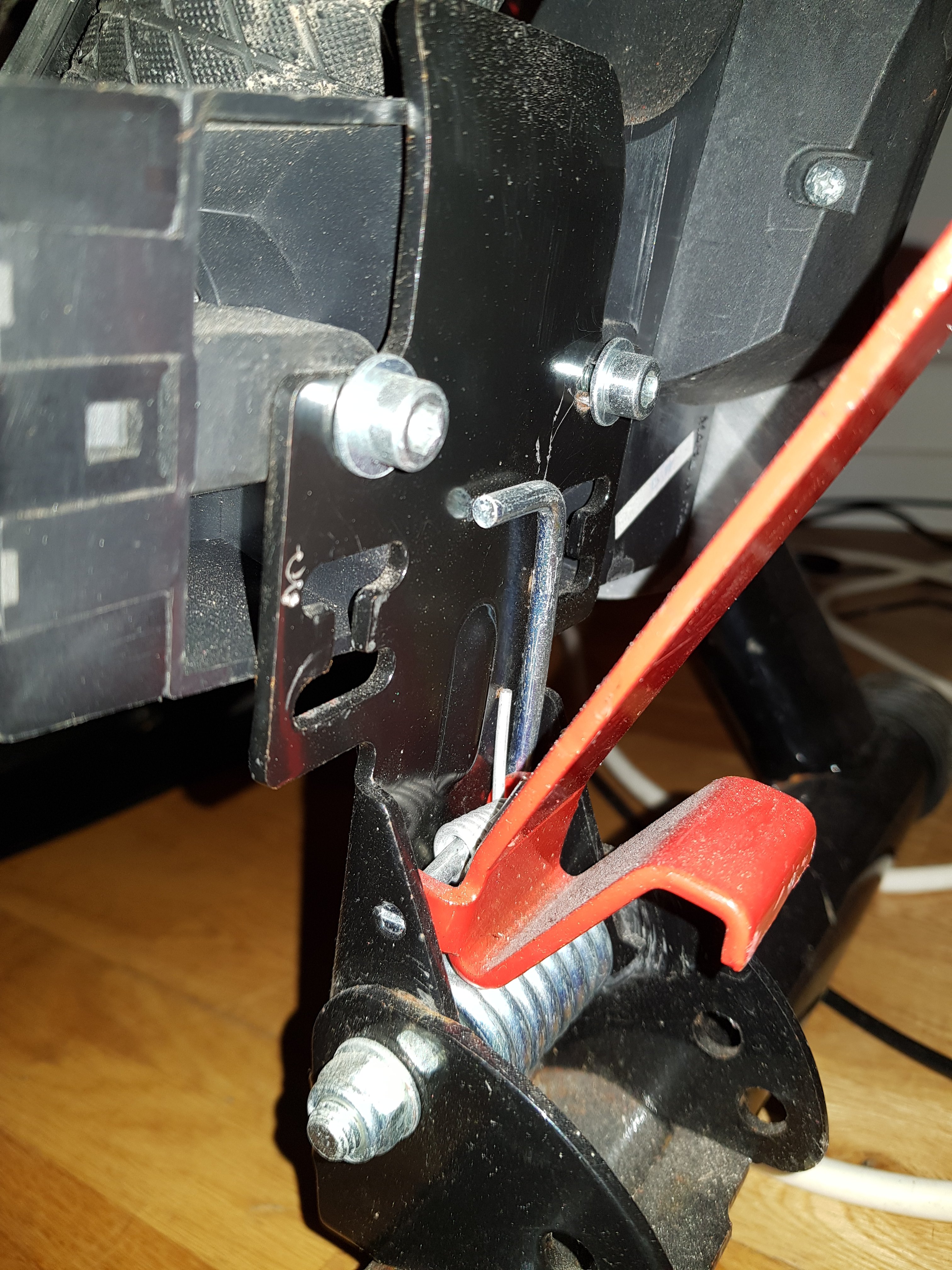 Once that was done the 20″ wheel could interact with the flywheel in the right place.
Cool!
Sadly though, as a result of moving the flywheel up and the bike having smaller wheels, the resistance was insane. The turbo was basically grabbing the wheel instead of pressing against it.
What was needed was a fudge factor!
This came in the form of a metal nut, which is partially clamped at the bottom end of the spring, reducing its compression.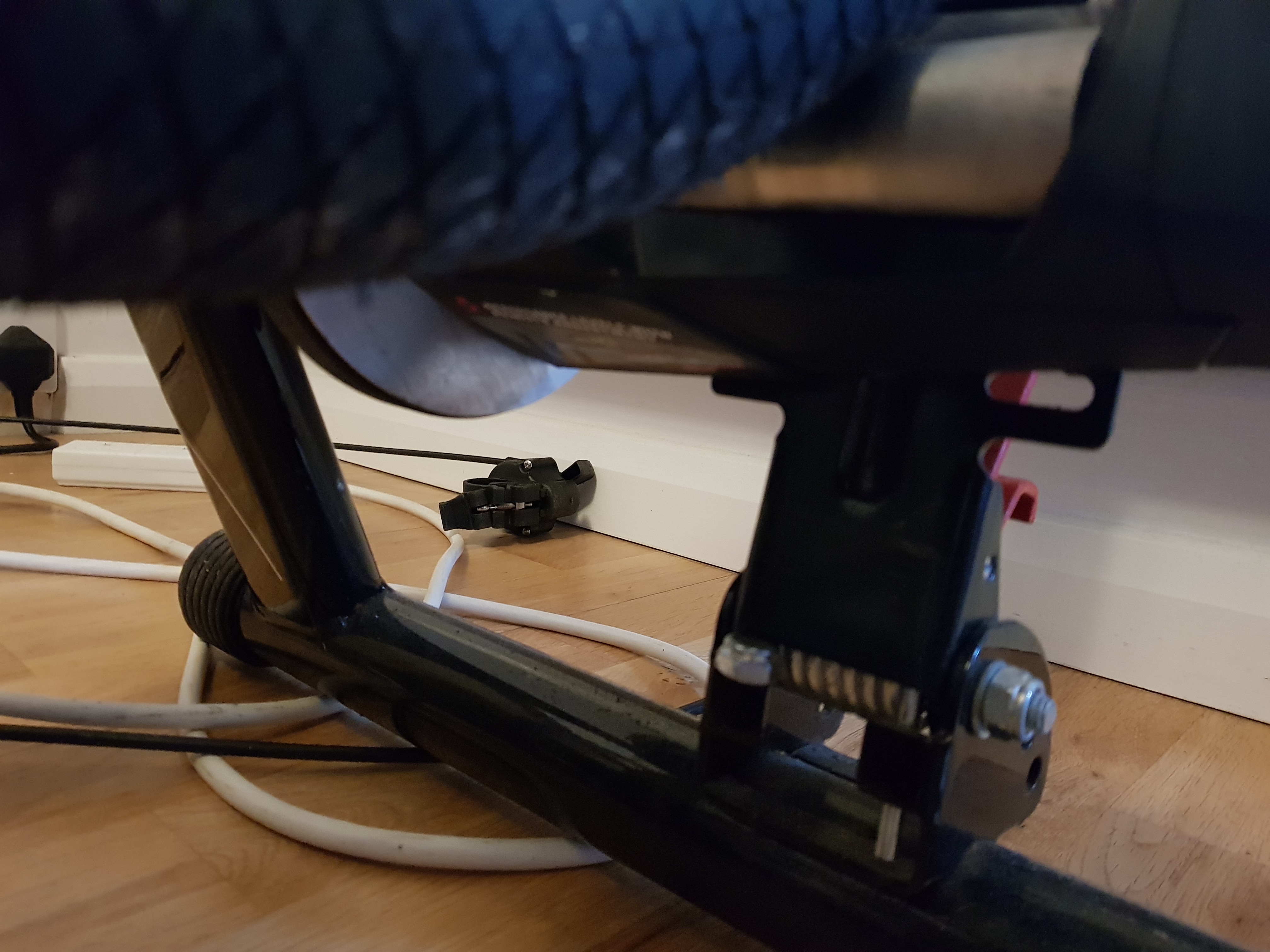 This reduced the resistance enough to allow the tyre to rotate against the flywheel without being squashed and impossible to move.
Then all I had to do was set the resistance to 1 on the turbo, add the speed sensor and we were ready to test it out.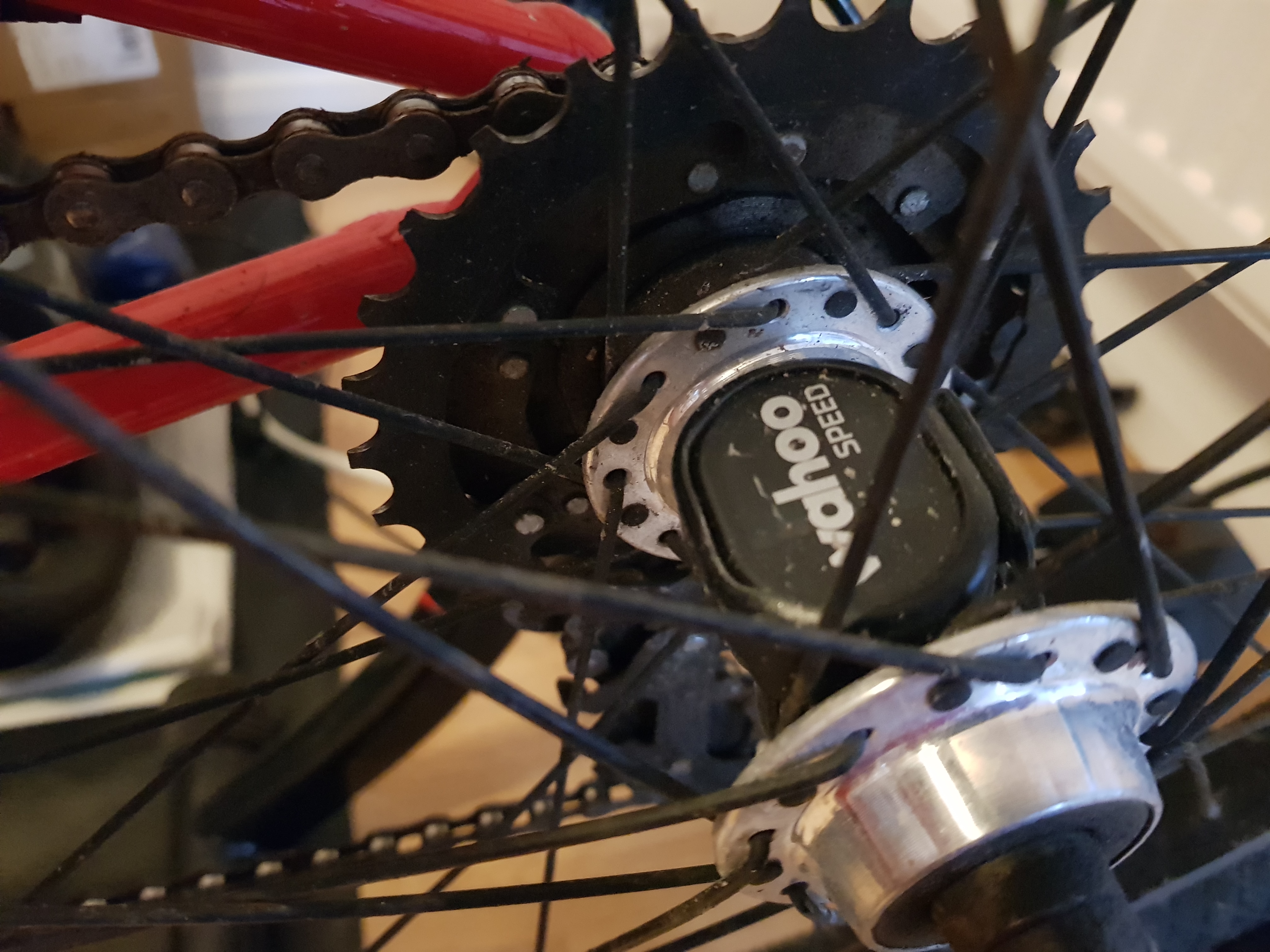 After 2 minutes nothing had exploded and small child was getting bored, which meant it was time to try it out in zwift!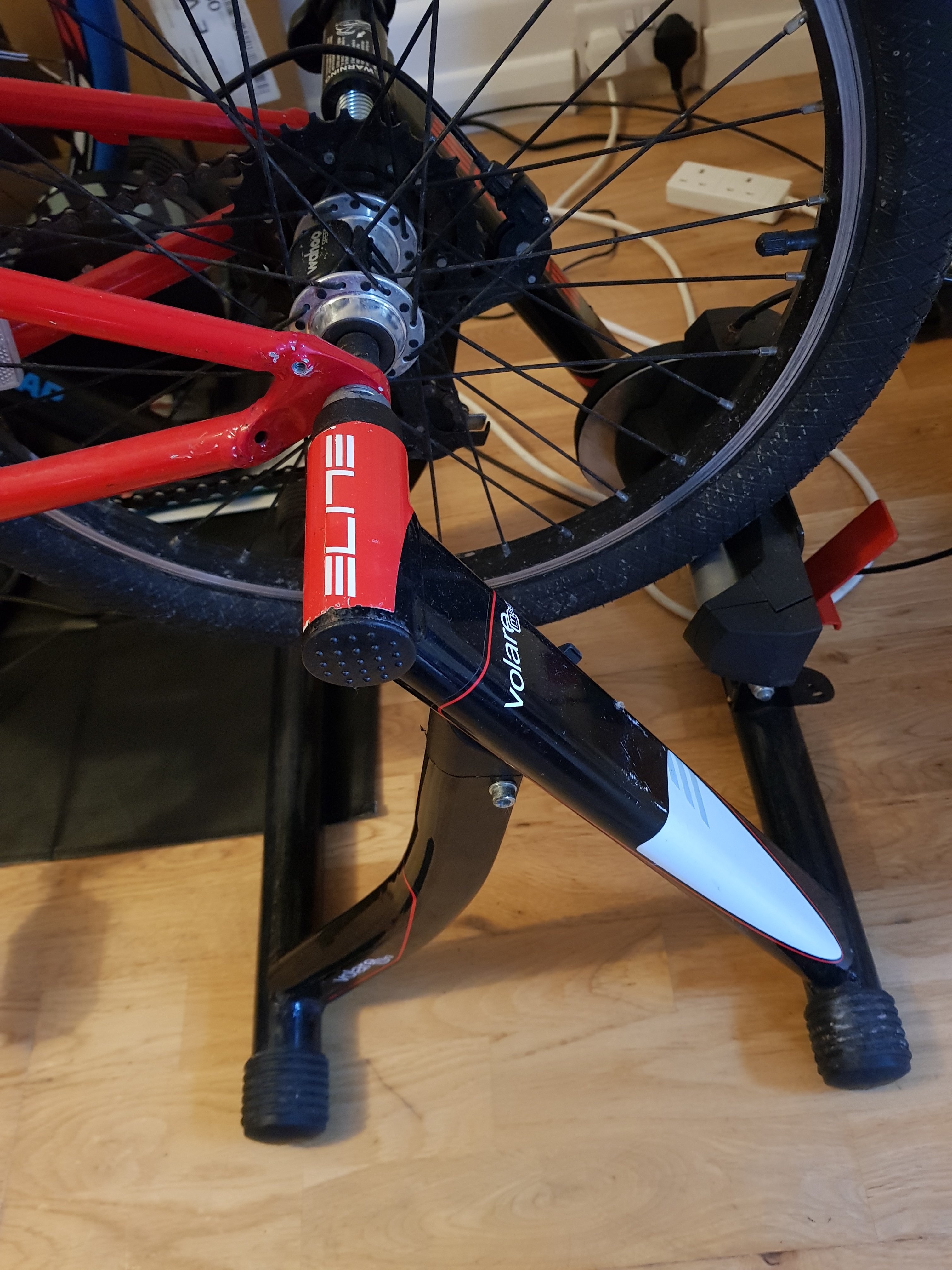 We already had the zwift kids account, so that was easy. Zwift picked up the speed sensor and we set the wheel size to 26″ (that's not a typo) selected the closest match to the turbo trainer and ignored the resistance setting.
Why did we lie about the wheel size? Well for a start this makes it a lot easier for kids to actually have fun in zwift. Most zwifters are adults and have a great deal more power and therefore more speed, and it's no fun if it takes 40 minutes to finish a lap of the volcano (5km)!
Same reason for the resistance setting, it's no fun and probably too hard for resistance setting 3 when using 20″ wheels!
Now as time goes along you'll probably need to adjust some of these settings. Once my son had gained some cycling muscles zwift kept flagging his "sprint" times as they were far too fast for someone of his age.
After 9 months of zwifting we now set the wheel size correctly, but the resistance stays at 1. He actually does something he calls "gradient gears" where as the gradient increases he follows with his gears (until he runs out at 6) to try and match the slope :-)
He's ridden 585km in zwift during 2020 and climbed nearly 4000m with a total riding time of almost 24 hours! Something I never imagined would ever happen.
He can also ride a bike! Properly! The stationery setup had given him (and my wife too) massive confidence in the bike and riding it. No more staring at his feet, or looking at his hands. His balance when pushing hard needs more work, but we can now do a run/ride of around 5km together with usually only one minor crash :-D
Hopefully this article helps some other parents who have some spare kit or are willing to spend a little. If you have any questions feel free to add comments or drop me and email ( zwift at bluemonki dot net )
Much love, stay safe and ride on!
John